I don't know what I do wrong … or maybe I do and don't want to admit. I haven't managed to visit Scotland this year … in fact I haven't managed to visit too many places this year and it makes me tired talking about the fact I didn't have much holiday to relax and all that. Fine!
I also haven't managed to put up the Round-up for Bloggers Around the World Scotland, which we had in December. We almost lost a week as well for the new challenge for October. Maybe I should make things easier and put up the new challenge in the round-up already. What do you think? Eh … we have a try later. I hope, we don't miss it.
Besides that, we are also dealing with the bilingual part for the blog. I'll have a try!
So, Scotland, we said. Some say, you can't do Scotland without a Haggis recipe. Well, I know at least one person, who says so. That one person is Cheryl from Madhouse Family Reviews!
Then here we start with her first entry, Veggie haggis with baked onions and tomatoes (Vegetarisches Haggis mit gebackenen Zwiebeln und Tomaten).
I like the cheese part in this. Can you see it? Well, I have never tried haggis (I must have said so before), but I might manage one day.
We stay a bit with Cheryl and … with Haggis as well. Here we go with her Haggis and cheese pastry parcels (Haggis und Käsepäckchen).
When you do Scotland you also need Loch Ness and that can only mean one thin in our case: Cheryl's Loch Ness Bagel Monsters (Loch Ness Bagelmonster).
They are cool, aren't they? The kids will love it. Ask Cheryl about it.
Cheryl has yet more for us (She was so kind to not do what I told everyone not to do – wasn't that kind, was it? Yes, it was.). Eh … right, here we bring you without any further fuss: Cranachan with a fruity twist (Cranachan mit einem fruchtigem Kniff).
That looks very lovely, I'd say.
It's time to move on to Vohn from Vohn's Vittles. She has something special for us: Ulster-Scots Pasties (Ulster-Schottische Küchlein).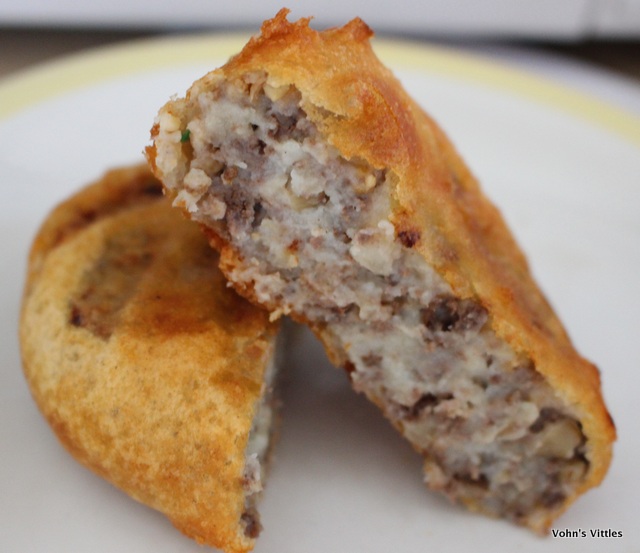 How does that look to you? Head over and see what special ingredient was used to make this.
Well, I haven't found any further links in the comment section of that Bloggers Around the World post, but wait … here is my entry again: Bridie.
What shall I say? That was it … all that is to say from my side regarding September's challenge with Scotland.
Good!
We need another challenge. I guess, it's time again to go for something new, something we haven't done before. I guess, Asia would be fine. I reckon we should do some cuisine I have never tried before. Somehow, I feel I should have a closer look at it. That means I will to do some research. As this is now a spur of the moment thing, and I don't want to delay things any further, I don't bother you with any details about the cuisine. You will figure out for yourself and share with us.
Oh, yes you are are right, by now I should have mentioned the country. So without any further ado I give you the destination for October …
MALAYSIA
Now it's out, you can get cooking and keep the following in mind:
Use and old post or do something new.
Leave a comment to your link in the comment section of this post.
Link to this post in your post.
Use the Bloggers Around the World Badge.
Mention your post on Twitter or share it on my Facebook page or on Google+ and if I see it (you make sure of it), I'll re-share.
Maybe tell others of this challenge.
You have about 30 days (till the 6th of November) and don't worry, if I post the round-up earlier.
Have fun!
That is all I have to say about it and now we get to the German part, but you can join, no matter what language you use. It will make things only more difficult for me, but hey, no worries I like languages and will figure something out.
Bloggers Around the World Oktober
So, oben gab es die Zusammenfassung für September. Nun ist es an der Zeit für eine neue Herausforderung, für ein neues Land. Ich würde mich sehr freuen, wenn ihr mit auf die Reise kommt. Diesen Monat geht es nach …
MALAYSIA
Dann werde ich mich mal bemühen, ein paar Nachforschungen anstellen und was schönes malaysisches kochen.
Macht doch einfach das gleiche und macht bei Bloggers Around the World mit. Hierfür braucht ihr nur ein paar Dinge im Sinn zu behalten.
Benutzt einen alten oder neuen Beitrag.
Hinterlasst einen Komentar mit dem Link zu eurem Blogbeitrag im Kommentarteil dieses Beitrags.
Verpasst eurem Beitrag einen Link zu meinem Beitrag hier.
Verwendet das Bloggers Around the World Banner.
Wenn ihr euren Beitrag auf Twitter, Facebook oder Google+ teilt, stellt sicher, dass ich es mitbekomme, dann kann ich das teilen.
Erzählt, wenn möglich auch anderen von diesem Blog-Event.
Ihr habt so ungefähr 30 Tage Zeit (bis zum 6. November) und macht euch keinen Kopf darüber, falls ich die Zusammenfassung schon ein paar Tage früher schreibe.
Habt Spass!
So, dass sollte es gewesen sein. Ich hoffe doch, das schön fleißig teilgenommen wird, damit ich auch ordentlich Arbeit mit der Zusammenfassung habe. Bis denne …