You can't mess with time. Even if you could go back in time to change things you have done in the past, things will most probably end of even worse.
What you could do, though, is a trip on memory lane, thinking about the things that you did and that happened and if you are clever enough, you could also learn from your mistakes. Or you could rediscover things you liked to do.
Anyway, today we will have mishaps, prawns, the number 3, Mexican, secrets unveiled and a cat.
Let's begin with some mishaps. As I was taking my trip on memory lane, I opened one of my old photo albums. I was wondering whether there would be any nice photos of me. Well, I don't know, but I took some photos of some photos. I'm not sure why, but one of those photos I posted on Facebook …
I got quite some reactions after that, friends were worried and wanted to know what had happened. Well … eh … I got even a phone call. So, what happened? Nothing, of course, maybe only that I haven't changed much in the last 20 years. I still look the same, almost – "Forever Young". Is that what happens, if you have a healthy diet, sufficient sleep, enough exercise and an overall healthy lifestyle?
Let us move on to some food. Some time ago, I bought a bag of Panko – Japanese breadcrumbs. I saw a dish on television – Panko Fried Prawns. For a long time I wanted to try it. Now I did.
Together with some chilli sauce it's a lovely snack.
Side note: Just keep an eye on how much Panko Prawns you have going in the hot oil at the same time. If you use too many, the oil might just … eh … bubble over and spread on your oven top and … who knows what mayhem that might cause there.
Now we can go on with the number 3. Somehow, it must be my 3rd blogiversary now. I don't know exactly how I managed from 2 to 3, but … here we are. Well, the last few months have been a bit quiet, so I decided to go back to the beginning today with food and have some Mexican food for the occasion.
Bean and Feta Enchiladas and Steak
The original idea was to make some vegetarian enchiladas, which indeed happened, but I felt for my 3rd bloiversary I need some more food, so I added the steak to the side. While the recipe mainly focuses on the Bean and Feta Enchiladas, I will mention a few things regarding the steak as well.
Ingredients:
Wheat tortillas
Creme fraîche
Chilli Sauce:
A splash of olive oil
1 clove of garlic, finely chopped
1 small onion, finely chopped
1-3 dried red chillies, finely chopped
400 ml tinned tomatoes
400 ml vegetables stock (or chicken stock for non vegetarian)
1 tbsp. dried oregano
1 tsp. sugar
A splash of red wine vinegar
Enchilada Filling:
A splash of olive oil
1 small onion, finely chopped
140 g sweet corn
1 red or green capsicum, chopped
250 g kidney beans
Salt, pepper
Bunch of parsley, chopped
200 g feta cheese
Method:
First of all, we need to do our own chilli sauce. Start in a sufficiently sized pan with a splash of olive oil at medium temperature.
Chuck in the garlic and the onion and have them work in the pan until translucent. Then add the chillies, the tinned tomatoes, the vegetable stock, the oregano and the sugar.
Bring it all to the boil and leave to simmer.
Now you have plenty of time to prepare the filling for the enchiladas.
Somehow, we start in a similar way, here – another pan and another splash of olive oil at medium heat. Toss in the onion and … you know … until translucent.
Add the sweet corn, capsicum and kidney beans. Season with salt and pepper and let it all simmer for a while until the vegetables have softened a tiny bit.
Remove the content of the pan to a bowl and let it cool down slightly. Then mix in the parsley and the feta.
Check the chilli sauce. If you where not super fast with the filling, you can remove the sauce from the heat now. If you don't like all the chunks of onion and tomato in your sauce, you can pass the sauce through a sieve.
Get yourself an oven-proof dish, that will hold at least five enchiladas. Lightly oil it.
Then get yourself a plate. Place a wheat tortilla on it and spoon a bit of the chilli sauce on it. Spread the sauce onto the tortilla. Place a part of the filling on the tortilla, roll it up and place it in the oven-proof dish. Pack those enchiladas all nice and tightly in the dish. When all enchiladas are in the dish, pour over the remaining chilli sauce and transfer the dish to the oven for about 30 minutes at 180 °C.
Meanwhile you could prepare the steak, if you wish to have it.
Have some butter in a pan and cook the steak to your liking in it. Once you have removed the steak from the pan and leave it to rest, you have some pieces of tomato and some stripes of capsicum go into the fat. Season them with salt and pepper.
When everything is finished, you can plate up.
Place the tomatoes and capsicum first, the steak on top of it and some roasted onions on top of that (figure out yourself how to get those onions).
Put one enchilada on the side. You can garnish it with some chopped up parsley and add also a spoon of creme fraîche on the side to mellow the effect of the chilli sauce.
Enjoy!
Of course, I used three dried chillies in the sauce, but I didn't feel it so much. So, don't be afraid. While the chilli sauce itself might be quite hot, you won't feel it so much in the finished product.
Lovely! I enjoyed my meal very much and I reckon, it was a worthy meal for my 3rd blogiversary. Well, I nearly missed it.
Back to the beginning could also mean, I join some blog challenged again. How could I do it any better than joining Lavender and Lovage's Cooking with Herbs?!
The theme this month is 'Winter Herbs'. So, have a guess yourself, which one I used was the winter one. Or let Karen explain that to you.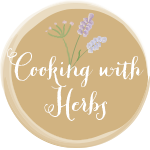 Fine, you are still here? Are you waiting for the secrets to be unveiled? While going through some old letters – strangely there was one person, I got quite a lot of letters from. I don't know what happened to that person. Anyway, in those letters she repeatedly mentioned something about a book I was writing. So I remembered that old story and had a look at it again. The title of the book is 'Geheimnisse' (secrets). Yes, well, I am sorry, but so far I only have excerpts in German language. You can read it here.
In fact, the book has over 200 pages and I can't remember all the details of it. I have started to work on it again to rediscover it.
Let me know, what you think … if you can.
Well, that's almost it. There is still something left:
The Cat